September 29, 2013
(He)Art: Art for Our Sake
Opening reception, Sunday, October 6, 7-9pm
Showing October 5-26 at Gorilla Tango Theatre, 1919 N. Milwaukee in Chicago
This group exhibit is the debut for Chicago Artery, a group of artists, educators, and supporters working together to use collaborativeprojects and shared learning to move Chicago in progressive and producive ways that promote community growth.
September 17, 2013
THIS GUY WALKS INTO A BAR
Opening reception, Friday, October 4, 7-10pm
Showing October 4-25 at AdventureLand, 1513 N. Western in Chicago
This one-person show highlights my newest etched glass bottles and will also include some flat glass pieces. The Gallery is open Wednesday-Saturday from 12-4pm or by appointment.
April 8, 2012
Re/Invention
Opening reception, Saturday, April 14, 6-10pm
Showing April 11-28 at ARC Gallery: 2156 N. Damen in Chicago
Five works will be part of this group exhibition. The Gallery is open Wednesday through Saturday from 12pm-6pm and Sunday 12pm-4pm.
June 13, 2011


March 23, 2011
Facades
Opening reception: Saturday, April 9, 7-9pm
Showing April 5-28 at the La Grange Art League: 122 Calendar Avenue in La Grange
Three of my works will be part of this regional group exhibition, juried by John Fraiser. The Gallery is open Monday through Saturday from 10am-5pm.
October 7, 2010
Art Loop Open 2010
Opening reception: Friday, October 15, 5-8pm
Showing October 15-29
One of my newest pieces, Attachment/Dependence, will be displayed at Block 37: 108 N. State Street in Chicago as part of Art Loop Open: the newest art competiton in Chicago, boasting an interactive and cultural experience at multiple locations throughout Chicago, including the Hard Rock Hotel Chicago, Hotel Burnham, Macy's, The Merchandise Mart, The Palmer House and the W Hotel. The public is invited to vote onlnie uning Microsoft tags alongside each artwork, text messaging, and at Hub 37 located on the ground floor of Block 37.
March 27, 2010
Glass Constructs
Opening reception: Friday, April 2, 6-9pm
Showing March 31-April 24, 2010 at ARC Gallery: 832 W Superior, Suite #204 in Chicago
My exhibit, "Glass Constructs," will be showing at the ARC Gallery in Chicago during the month of April. ARC Gallery is closed on Monday and Tuesday. It is open Wednesday-Saturday 12-6 pm and Sunday 12-4 pm.
Other exhibiting artists include painter Ruti Modlin's exhibit "Happy Hour" and photographer Shane Prine's show "The Presence of Absence"
February 23, 2010
Some of my most recent work will be on display this Thursday evening at 6:00pm at the Open Critique session being held at the Hyde Park Art Center, 5020 South Cornell Avenue in Chicago.
"The Open Crit program asks you to identify and explain the critical discourse surrounding your work to a public audience. What challenges are you facing in the content or style of your work and what is the best way to resolve the work and make it more successful? Designed to be useful for artists who really want to progress to the next level in their career, each artist will have up to 40 minutes of dedicated discussion with our co-facilitators and the audience. The session will provide critical response to actual works brought in for the evening. This is an opportunity to get real honest feedback, a chance to become part of the critical artistic discourse, and definitely not for the squeamish!"
November 3, 2009

August 26, 2009

May 14, 2009

May 1, 2009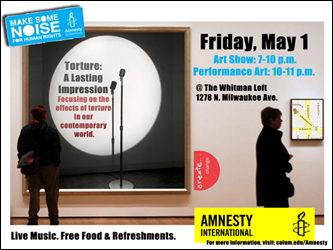 The exhibition focuses on the effects of torture in our contemporary world, utilizing artists and students as a medium to portray the degrading consequences of torture on society. Lent from a private collection, the main art piece on display is by renowned international artist Hani Mazhar, an Iraqi-born artist with solo exhibitions in many galleries across the world in the last 20 years. In addition, there will be complimentary o'dourves and light refreshments along with student performances and live entertainment from 10 p.m.– 11 p.m.
The show is Friday, May 1, from 7-10pm. A performance will take place from 10-11pm.
The Whitman Loft is located at 1278 N. Milwaukee Avenue in Chicago.
January 5, 2009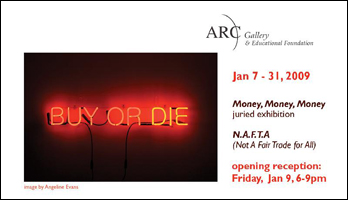 Money, Money, Money
Opening reception: Friday, January 9, 6-9pm
Showing January 7-31, 2009 at ARC Gallery: 832 W Superior, Suite #204 in Chicago
Juried by Mary Jane Jacob, Professor and Executive Director of Exhibitions at The School of the Art Institute of Chicago. This an exhibition of contemporary artwork that addresses personal, political, and economic issues pertaining to the cultural currency of money. In today's political climate, how does money move, change, and affect both nations and/or individuals? The effects of economic issues on national decisions, the effect of a global economy on the individual, the individual artist's relationship to the economy, and the aesthetic value of currency are some aspects that the artist is asked to contemplate.
Participating artists: ATYL, John Anderson, Stephen Barnwell, Pamela Calore, Timothy Campbell, Angela Cazel Jahn, Angeline Evans, Rachel Foster, Benjamin Funke, Juan Garcia, Eric J. Garcia, Urszula Gogol, Renee Haddad, Derek Haverland, Drew Huening, Anna Huffman, Daniel Hustwit, Jill Jeannides, Elizabeth Kauffman, Ryan McJunkin, Daniel Mellis, Geoffrey Owen Miller, Mary Min, Cheri Reif Naselli, Fabio Rodriguez, John O. Smith, Matt Sour, Mirjana Ugrinov, Donna J. Wan, Jennifer Weigel and Marjorie Woodruff.
Elephants in Small Places
Opening reception: Saturday, January 10, 7-10pm
Showing January 10-February 7, 2009 at Green Lantern: 1511 N Milwaukee Ave., 2nd Floor in Chicago
The Green Lantern is proud to announce a group show called "ELEPHANTS IN SMALL PLACES" opening this Saturday, January 10th, with a reception
from 7-10pm. Running until Feb 7th, the show features the work of Shannon Gerard (Canada), Clare Britt (Chicago), Jennifer Wilkey (NY) & Derek Haverland (Chicago). Each of the participating artists works works with varied though tactile mediums. Featuring soft sculpture maquettes, prints, to photographs and wall installations, the show redresses illness with a handmade asethetic in order to create an environment of queasy appeal.
This show as curated by Elizabeth Chodos, Daniel Anhorn and Caroline Picard.
November 16, 2008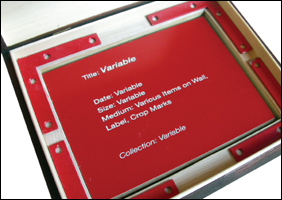 Make Me an Offer, at Gallery 350, is a national exhibition seeking to emphasize the growing ambiguity between the commercial and fine arts. It challenges the artificial nature of this distinction.
The opening reception is on Thursday, December 11, 5-7:30pm.
Exhibition dates are December 9, 2008 through January 23, 2009.
The gallery will be open M-F 9am-6pm, Sat 9am-5pm, and is closed on Sunday.

Gallery 350 is located at the Merchandise Mart, 350 N. Orleans Street.
September 13, 2008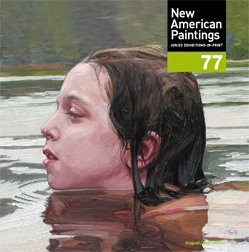 Be sure to take a look at issue #77 of New American Paintings. The Midwest region edition is now available now and includes my work.
August 27,2008

August 19,2008
I'll be showing at the Parts & Labor Collective show Subtext: Language, Words & Symbols in Art. The opening is Saturday August 30th from 7pm - Midnight
with an open house showing Sunday the 31st from 1pm-4pm. The address is 3144 W Carroll -between Lake and Grand off of Sacramento. The gallery is on the NE corner in the warehouse at Kedzie and Carroll on the 3rd floor.
April 25, 2008
The time is near: Vernissage 2008. The San Francisco Art Institute MFA Exhibition at Fort Mason in the Herbst Pavillion. Located at Buchanan Street and Marina Boulevard west of Fisherman's Wharf, the show kicks off on Friday, May 16 from 6-9pm then from noon to 6pm May 17 through 24. Come see the work, and if you can't make it, you can see the work in the gallery on this site.
March 20, 2008
The Museum of Arts & Design currently has a show entitled Pricked: Extreme Embroidery. Exploring the range of needlework, this show has opened my eyes to a number of contemporary needleworking artists and thieir range of work. Additional info can be found here.
March 16, 2008

September 27, 2007

July 4, 2007
July 13-18 I'll be showing at Root Division in the HOME Exhibition. The opening reception is Saturday the 14th from 7-10pm. Stop by, say 'hi' and check out the show.
June 1, 2007

April 9, 2007
Sol LeWitt, 78
Artist
Sol LeWitt, whose deceptively simple geometric sculptures and drawings and ecstatically colored and jazzy wall paintings established him as a lodestar of modern American art, died yesterday in New York. He was 78 and lived mostly in Chester, Conn.
The cause was complications from cancer, said Susanna Singer, a longtime associate.
Sol LeWitt was born in Hartford, Connecticut, on September 9, 1928. As a child, he attended art classes at the Wadsworth Atheneum in Hartford. LeWitt completed a B.F.A. at Syracuse University in 1949 and then served in the United States Army in Korea and Japan during the Korean War. In 1953, he moved to New York, where he took classes at the Cartoonists and Illustrators School and did production work for Seventeen magazine. LeWitt subsequently worked in graphic design in the office of architect I. M. Pei in 1955-56.
In the early 1960s, LeWitt made paintings and reliefs before concentrating, in the mid-1960s, on three-dimensional works based on the cube. For these, he used precise, measured formats, such as grids and modules, and systematically developed variations. His methods were mathematically based, defined by language, or created through random processes. He took up similar approaches in works on paper.
The artist's first solo show took place in 1965, at the John Daniels Gallery in New York. In the second half of the 1960s, LeWitt's art was shown in group exhibitions of what would soon be known as Minimalism; among these were the 1966 exhibition Primary Structures at the Jewish Museum in New York. During this period, he taught at several New York schools, including New York University and the School of Visual Arts.
LeWitt is regarded as a founder of both Minimal and Conceptual art. In sculpture, LeWitt mapped out all possible permutations--he found 122--of a cube with one or more sides missing in Variations of Incomplete Open Cubes (1974).
Sunday, April 30, 2006
A few weeks back I literally stumbled into Tony Fitzpatrick's studio. After a brief chat about Wesley, the Loop, and Landfall Press he gave an invite to his release party for The Wonder: Portraits of a Remembered City, Volume 2. It was held today at Fitzgerald's in Berwyn. IT was quite a celebration complete with food, drinks and live music. I couldn't resist buying a copy and having him sign it. Thanks, Tony.
Sunday, March 5, 2006

Thursday, January 19, 2006
I was lucky enough to photo document the event below. Quicktime of it is here.
L Car No. 1 travels into history
January 18, 2006
BY ANDREW HERRMANN Staff Reporter
CTA L Car No. 1 has made countless trips since being built in 1892. But not as unusual as the one it is scheduled to make today.
On Tuesday, workers carefully lifted the century-old, 21-ton coach onto a flatbed truck for today's circuitous 30-mile journey from a CTA storage yard in Skokie to the Chicago Historical Society at North and Clark.
The car will serve as the centerpiece to the Society's new-look renovation.
CTA L Car No. 1, built in 1892, is set to go on display at the Chicago Historical Society in September.
Dark green with gold trim, the wooden car was built as part of Chicago's first rapid transit service -- a steam-powered line that ran from Congress to 39th. It also ferried high-hat gentlemen and women with parasols to the World's Columbian Exposition of 1893.
Prepared for one more trip
"For a senior citizen, she's in pretty good shape,'' said Richard Belding, senior project manager for the Belding Walbridge firm that specializes in moving heavy objects.
Workers wrapped the car in plastic sheeting and welded it to a steel platform before using a four-story-high crane to lift it onto the back of a tractor trailer Tuesday.
As a few snowflakes fell, Belding said the key to the move is balance. And, indeed, steel bars were added to one end of the platform so the car would not slip and slide from the giant nooses used to raise it.
The firm typically moves massive industrial and construction equipment but it has developed a sideline relocating other large pieces, including oversized art for the Field Museum and Oriental Institute and a viking ship for the Lincoln Park Zoo. At the Museum of Science and Industry, it helped affix a plane to a ceiling, said Belding.
"In the scope of things, it isn't that heavy,'' Belding said of the L car.
A 3-hour tour -- or more
The trickiest part will be the twisting route from Skokie, a trip that will take the L car through Kenilworth and Evanston, and down city streets such as Clybourn, Clark, Ashland and Dearborn. The many turns are designed to avoid viaducts; the drive will take three hours or more.
The car will be dollied through an opening at the Historical Society, where curators will repair some of the car's broken cane seats, level its wooden floor and give it a spot of paint.
Once heated by steam and lit with gas lamps, the car was one of 180 built for the Chicago and South Side Rapid Transit Co.
It remained in service until 1930 (after being converted to electric power).
In 1959, it was restored to its turn-of-the-century look and it has been used periodically by the CTA at special events.
"People are going to love it,'' said Holly Lundberg, a Historical Society curator.
Hold those tickets, though: The North Side museum's renovation won't be unveiled until late September.
Thursday, December 1, 2005

Sunday, November 13, 2005
Now through December 10 I will have work up at The Latin School of Chicago. Needlework, glass etching, and paintings will be on display. Please stop by if you are in the vicinity.
Friday, November 4, 2005

Sunday, October 9, 2005
As someone who has not only helped raise me, but has also been such an influence in my work, I shall miss her dearly:
| | |
| --- | --- |
| | Helen Mueller, 99 |
Helen Mueller was born to Alfred Willard Abbott and Myrtle Jane Comstock in Barrington, Illinois on December 27, 1905. She was the widowed wife of Fred, the mother of Virginia, and the grandmother of Derek. Passionate about music, she played the piano in various careers for most of her life, and was able to transpose any song into any key. A proud and independent woman, she passed away quietly in her sleep Sunday, October 9 at her residence in Oak Park.
Saturday, October 8, 2005

Wednesday, February 2, 2005
Voodoo for Valentine's Day. ARC is conjuring up its latest fundraising endeavor! In conjunction with their "Crushed Crushes" exhibition, they will be selling handmade voodoo dolls at the gallery throughout the month of February. Priced below $25, all proceeds will benefit ARC gallery, currently in its 31st year of operation. Be sure to look for mine! ARC Gallery: 734 N. Milwaukee (corner of Milwaukee & Carpenter) in Chicago. Call 312-733-2787 Hours: Wed - Sat 12-6, Sun 12-4, and by appointment .
Sunday, January 23, 2005
Nancy Paschke, 65, passed away January 17, in Chicago. Artist and widow of celebrated painter Ed Paschke, who passed away in November.
Sunday, November 28, 2004
Recently, I had a conversation with a friend about overlooked Chicago artists and how even Chicago overlooks their own artists. We have lost one of the anchors: Ed Paschke.
Ed Paschke,65
Artist
Ed Paschke, 65, one of the most celebrated Chicago-born painters for three decades and an artist known as much for his generosity as for his work, died in his sleep at his North Side home, apparently on the morning of Thursday, Nov. 25. Paschke's body was discovered on Thanksgiving by his daughter, Sharon, with whom he had lived. She said heart problems ran in the family, and Paschke had "a slight heart murmur" under medical attention. The exact cause of death is unknown.

"Talk about losing the good guys," said Tony Jones, president of the School of the Art Institute of Chicago, Paschke's alma mater. "I can't think of anybody `gooder' than Ed. He was always the first person to ask about what he could do. He was famous but never wore a mantle. He was very gentle, quiet and articulate, a regular guy--the exact opposite of his sometimes lurid pictures." Paschke came to attention in the late 1960s with a group of funky Chicago fantasts known as Imagists. Of all of them, he was the one most traditional insofar as his work was rooted in realism. Paschke's early vision was at once startling, threatening and freakish, but it remained, nonetheless, the work of an urban realist.

"Ed was at the center of the Imagist movement in Chicago but always pursued a somewhat separate course," said Neal Benezra, director of the San Francisco Museum of Modern Art and the former curator at the Art Institute of Chicago who in 1989 gave Paschke a full-scale retrospective that traveled to Paris. "One of the things I always loved about him was how comfortable he was in his own skin, in his work and in his place in the world."

"He was an important image-maker internationally," said Lynne Warren, curator at Chicago's Museum of Contemporary Art. "Many people perhaps don't realize how forward-looking he was. He took from many sources: the American vernacular, comic book imagery and so on. So many things that now are important to a younger generation he was doing all along, in fascinating canvases with powerful color." Strong as Paschke's early canvases were, in the late 1970s he began to have doubts about them, feeling they made a sensational first impression, then diminished in impact. This led him to a radically different look, less photographic than electronic. It was as if the dramatic interactions took place on irregularly functioning video screens that flattened or dissolved parts of the images, adding various sorts of interference. This suggested that, unlike some acclaimed artists, Paschke always moved forward.

"My father was a very humble person," said Marc Paschke. "What he got from his father he gave to me. And that was the feeling that everything might at any time disappear. So he worked six days a week. And on Sunday he sat around the house making drawings with a bad ballpoint pen. It was the working-class ethic his father gave him. He constantly felt he needed to keep working."

Nevertheless, Paschke had time for others. "For young artists coming up, he always held out a hand," said artist Tony Fitzpatrick. "He mentored us. I knew him for 20 years. He was an older-brother figure to me. I admired him since I was a kid. It was akin to watching Michael Jordan play, getting to meet him and then playing the same game." "A lot of people knew him because of his work as a creative person," Marc Paschke said. "What they don't know is how devoted he was to his wife. She has Parkinson's disease and has been in a nursing home for 12 years. Given his schedule, he still found the time to get over there almost every day to stimulate her, to help her to draw. And that was the same with us. I honestly don't recall even a single time in which he missed any event having to do with us kids."

"His every exhibition was a new frontier," Polsky said. "He never rested on his laurels. He always wanted to experiment with new technology, and we were privileged to be the first gallery to show his computer-generated images ... [and] his wall reliefs."

In lieu of flowers, contributions may be made to the Ed Paschke Scholarship Fund, P.O. Box 46505, Chicago, IL 60646-0505.
Friday, March 26, 2004
Productive times are here! After a bit of a dry spell, four new pieces have been posted in the gallery (Skin I-IV). Furthermore, I am pleased to be accepted into a Graduate Degree program at SFAI.
Wednesday, March 24, 2004
Last week was a beautiful week in Ireland. Weather forecasts were not good-looking, but it was to the contrary upon arrival. Although it may not have been bikini and shorts weather, rain was minimal and didn't interfere with touring. Dublin and Galway were great experiences.
Saturday, January 31, 2004
It just dawned to me today why Rocketship X-M on Mystery Science Theater 3000 is so great. It was the first episode for TV's Frank!
Tuesday, January 20, 2004
I have been sick since Saturday. This is not the way I want to spend a three-day weekend. Nothing serious,but it is having an impact on my dreams. Incredibly vivid dreams Sunday night made we wish I would never awaken. Conversely last night, my dreams were a montage of car chases with occasional exchanges of gunfire. Convertibles and hardtops, daytime and nighttime chases all took place. There was an occasional accomplice with me, but rarely assisted without my instructions. The dreams came to an end when a nighttime chase ended with me abandoning a car. I remember my chest feeling wet and sore as I got out of the car, I presume a gunshot or vomit. I was two blocks from my mothers house so I ran there. I was daylight as I crawled, or more accurately ran like a dog and leapt 12 feet into the air and over the fence into the gangway and into the backyard. The doors were locked so I ran around and again leapt over the fence.
This jumping sensation was something I have not experienced before. There was an incredible hang time on a jump that could have landed me on the roof of the house.
I ran to the front door, unlocked it and ran down to my room. Alas I don't live there anymore so it was as bare as the day I moved out. You can't go home.
*sigh*
After waking from these 'chase dreams', I returned to sleep and had visions of decay. Not rot and death, but more in the manner of giving the impression of deterioration to an image (Photoshop?). I'll have to explore this later.
Sunday, October 5, 2003
Last night was full of excitement. I'm not exactly the BIGGEST sports fan, but I am hopeful to see the Cubs taste victory. I had to be in the Wrigleyville area for a Pegboy show and was wary of how nutty things might have been if the Cubs won their third in the NLDS. I hoofed it to Metro from Clark and Belmont as the buses were being rerouted. Dummy, The Phenoms and Pegboy had a show that would have been spectacular if the Cubbies pulled it off. Even without that to top off the night, all bands put on a great show. (Where were you Matt?) I haven't seen Pegboy since the mid-90's when they were coming out later and later that their gigs. Last night they were timely AND put on a good show. Larry has lost his 'baby fat' and actually looks like he could play for the Bears now. John and Pierre don't look like they have changed much, but could at least grin once in a while, have some fun guys! Yeah, yeah, lets not forget Joe either, nice banging man. Kudos to the girl down on the floor who was dressed like a Catholic School girl and danced like a stripper. The show gave me the spirit to hike all the way back to the Old Town area rather than take the bus. All we need now is a Killdozer revival!
Sunday, September 7, 2003
Around the Coyote 2003 has came and gone. Our outdoor location was beautiful and spacious, and the weather was a blessing to those who came to experience the incredible artwork on display. To Darren and Sean I say thank you for being there. Best of luck to fellow artists I spoke with, and thank you to the generosity of those who purchased artwork.
Saturday, August 23, 2003
Heaven just got 350 pounds heavier. Going to college in Chicago, I saw Wesley Willis frequently and saw his shows occasionally. Good/bad timing allowed me to see him at the Fireside Bowl late in the Spring. He was noticeably deteriorating as his zombie-like gaze failed to make many connections and he had assistance getting up to and down from the stage. While always a big guy, his legs and ankles were outrageously swollen. His passing removes any pain he may have experienced. We'll miss you Wes.
Wesley Willis,40
Rock singer, performer, songwriter, entrepreneur and artist
Wesley Willis, a longtime fixture on the Chicago rock scene and a celebrated favorite of such superstars as Pearl Jam's Eddie Vedder, producer Rick Rubin and punk legend Jello Biafra, died Thursday after a battle with chronic myelogenous leukemia at Palliative Care Center & Hospice of North Shore. Mr. Willis had undergone surgery for the disease late last year and was recovering in a hospice. The specific cause of death has not been determined, nor was his exact age known. His label, Alternative Tentacles, said he was 40.
Standing 6-foot-6 and weighing in at about 350 pounds before his debilitating illness, Mr. Willis was often seen haunting local rock clubs and walking the streets of Wicker Park talking loudly to himself, as well as hanging out with his favorite bands and enthusiastically head-butting fellow musicians and music lovers with a "Rrrrah!"

He was diagnosed as schizophrenic in 1989, and at times he was homeless and lived on the streets. But he was an industrious artist who peddled intricate, highly detailed drawings of Chicago street scenes done in colored felt-tip marker, and he released more than 50 albums, many of which were independently produced. Mr. Willis toured tirelessly, and his three-chord rants drew fans ranging from frat-house partyers to internationally known post-punk stars.

"Wesley will go down as one of the most unique songwriters and entertainment personalities in history," Biafra said Friday. "What really struck me was his sheer willpower, his unrelenting drive to succeed and overcome his horrifically poor background, child abuse, racism, chronic schizophrenia and obesity among other things. He was the most courageous person I have ever known."

Mr. Willis said he often heard voices that urged him to "do bad things," and his music and visual art helped him to "quiet the demons in my head." As a result, he became one of the most visible examples of what has been called "outsider art"--visual art or music made by untrained artists, many of whom suffer from mental illnesses.

Though he sometimes recorded with an improvisational noise-rock band called the Wesley Willis Fiasco, led by his friend Dale Meiners, most of his albums were taped on a primitive recorder and featured him rapping over the canned instrumental sounds preprogrammed into a cheap Technics keyboard; songs that use the same exact same keyboard arrangement over and over, with only minor variations in tempo and key. These songs usually found Mr. Willis paying homage to a rock band that he had just seen perform, and they invariably ended with the tuneless, shouted declaration, "Rock Over London! Rock on Chicago!"
Wednesday, July 30, 2003
It's official. I will be showing at Around the Coyote 2003 September 5-7 in Chicago's Wicker Park. My exhibition will be located at the Pulaski Park Fieldhouse, 1419 W. Blackhawk. The Pulaski Park Fieldhouse is located 4 blocks East of Ashland and 2 blocks south of North Avenue, just west of the Kennedy Expressway. My work will be for sale, checks will need to clear before artwork is delivered.
Tuesday, July 29, 2003
The 2003 KCAI Summer ArtLab pages are on the verge of completion. Small images are links to the full-size, click away! Just be prepared for a long load time, they average 1.4MB.
Saturday, July 19, 2003
The 2003 KCAI Summer ArtLab has concluded and I feel renewed in a number of ways. The studio time and people there were unforgettable. More about it can be found here.
Tuesday, June 3, 2003
How sad is it that the the cork-filled bat of Sammy Sosa is breaking news? Please, interrupt regular television broadcasting with the latest. I can't wait for the regular news to get the latest, most essential information of my life.
Sunday, June 1, 2003
Major bugs fixed, individual header banners for each section.
Monday, May 26, 2003
The full-blown site layout is nearing a stage that it can go up. All intentions are to have this occur by the Fall 2003 Around the Coyote festival.